MN-S welcomes its 12,000th citizen
August 14, 2020 – This week, Métis Nation – Saskatchewan welcomed its 12,000th citizen as three generations of the Calette family obtained their citizenship cards from the MN-S Registry.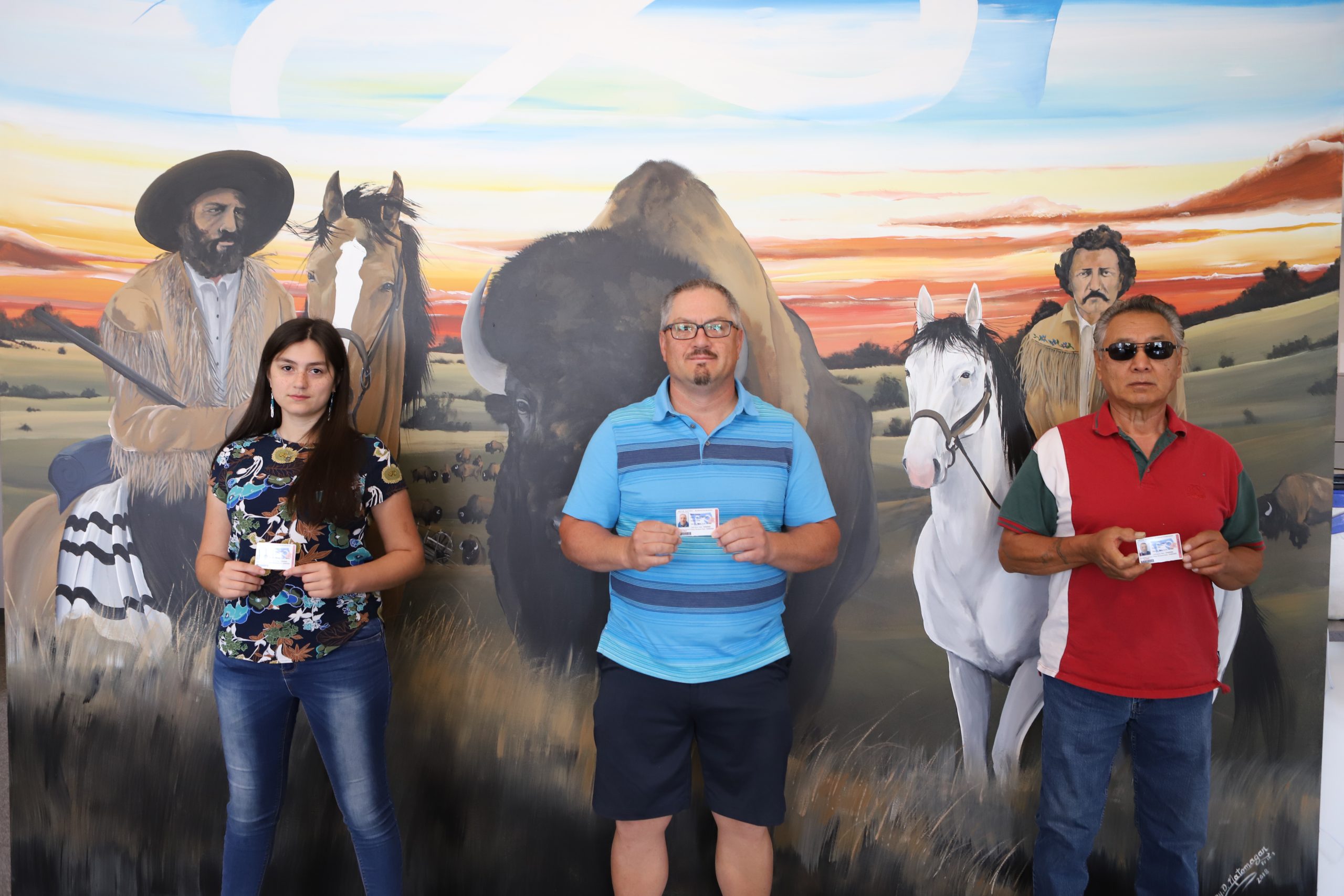 Oliver Calette, his son Mark and granddaughter Hannah were joined by MN-S President Glen McCallum, Vice-President Gerald Morin, Finance Minister Earl Cook and Elder Norman Fleury to mark the occasion on Wednesday.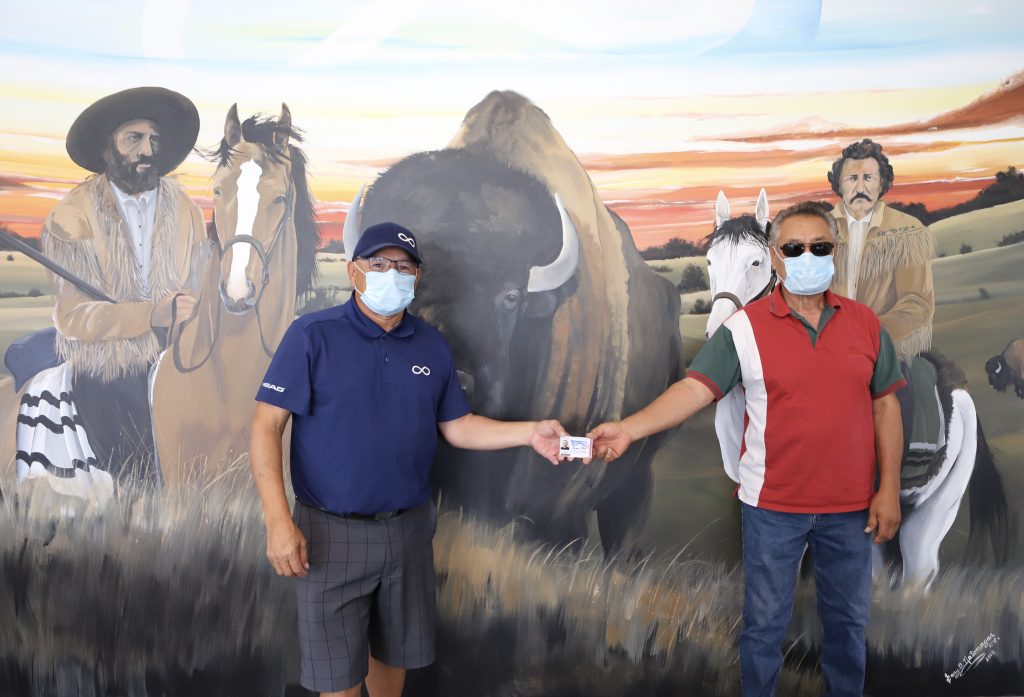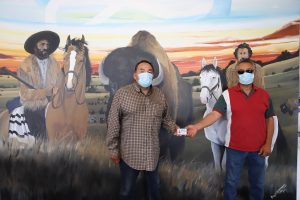 Mark Calette says it was about 30 years in the making. That's how long ago he started the fact-finding journey to gathering family records – some didn't exist. Mark said, once he got the family to register, he passed along all the pieces he had assembled and, "I got help along the way (from the Registry staff) to help glue it all together." The MN-S registry also assisted in locating some missing documentation.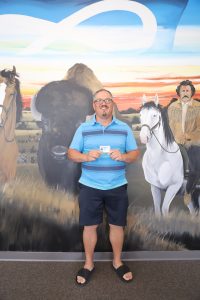 Typically a man of few words, when handed his Métis card, the elder Calette said several times over, "This is awesome." According to Mark, "That's as much excitement as you're going to get from my dad."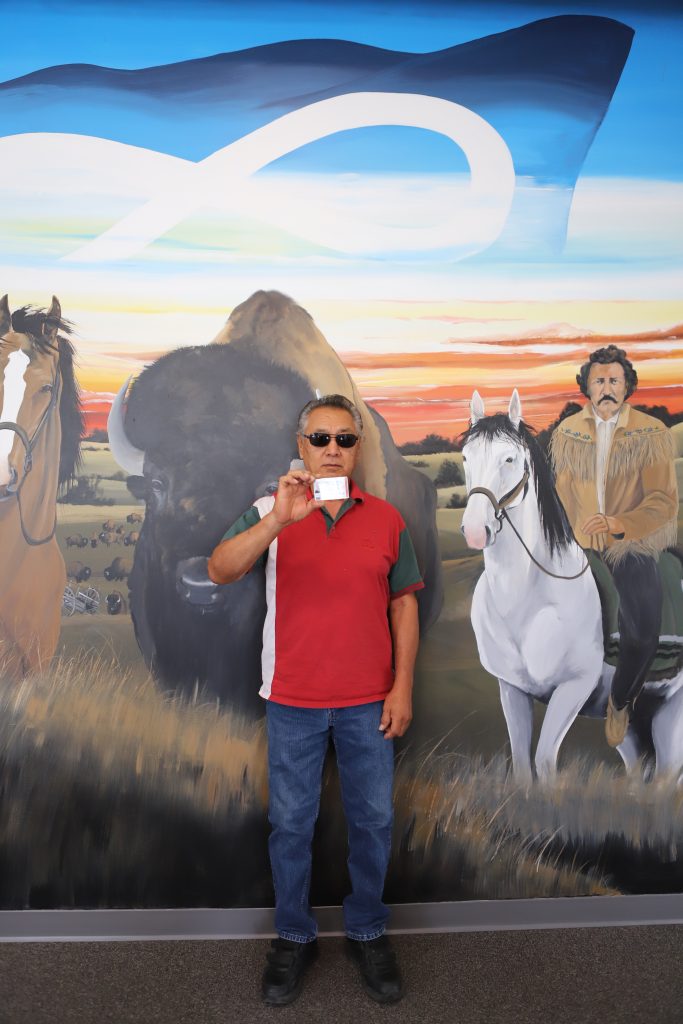 Mark Calette shared that while his process was time-consuming, it has cleared the way for other family members to get their citizenship cards with greater ease. Mark would send this message to everyone contemplating embarking on the same journey "Don't give up, the end result is totally worth it."
Since it reopened in 2017, the MN-S Registry has had services expand and rapid growth across Saskatchewan. The Registry is currently working with over 3000 active applicants in-process from across Saskatchewan. Each week new citizenship numbers are issued, new milestones passed, and new citizens are accessing funding and services available from the MN-S. The Registry locations remain closed to the public because of COVID-19. Staff are still working and assisting people over the phone and by email to complete the new online application. The MN–S Registry toll-free number is 833-343-8391 and email is [email protected]