MN–S Contributes to the Health and Wellbeing of Seniors in Duck Lake
Métis Nation–Saskatchewan (MN–S) and Métis Local #10 are proud to be a part of improving the lives of seniors at Goodwill Manor Special Care Home in Duck Lake.
A significant contribution has been made for the addition of a sunroom at the front of the facility. It will serve as a place for protocol-friendly, safe family visits to happen now and educational programming for the residents, staff and the community, post-pandemic.
The project is underway now and should be complete by the fall. A media release is available here.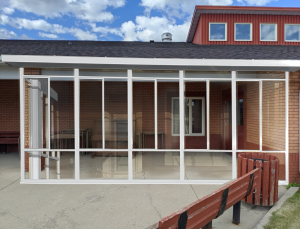 (Artist's rendering of 4-season sunroom at Goodwill Manor Special Care Home, Duck Lake, SK.)