February Tea & Talks with Dr. Veronica McKinney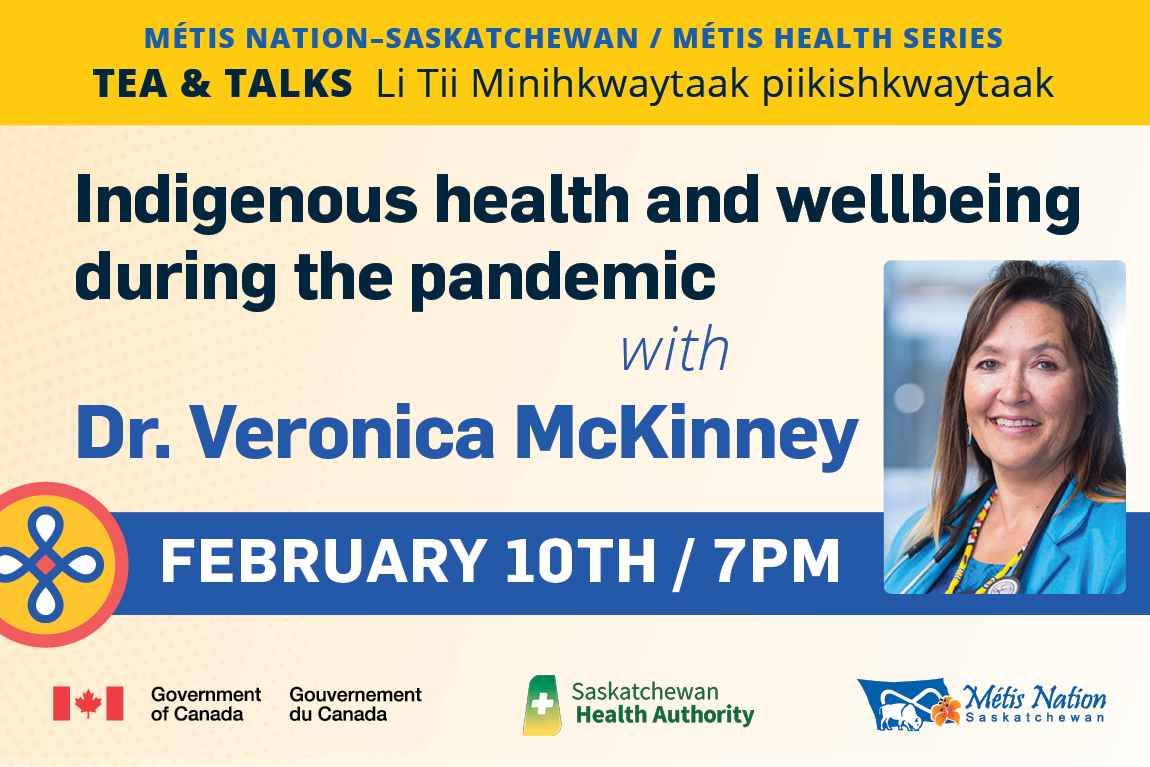 January 28, 2022 – Join medical professional Dr. Veronica McKinney at the Métis Nation–Saskatchewan (MN–S) February online Tea & Talks / Li Tii Minihkwaytaak Piikishkwaytaak: A Métis Health Series. Dr. McKinney is a Cree-Métis doctor and the Director of Northern Medical Services at the University of Saskatchewan. Join the conversation on Thursday, February 10 at 7 pm, where Dr. McKinney will be discussing Indigenous health and wellbeing during the pandemic. Visit to register here or watch on Facebook live here.
Tea and Talks are presented monthly by the MN–S Ministry of Health in partnership with the Saskatchewan Health Authority (SHA) and Health Canada. Each month a new topic will be discussed with guest speakers who are experts in their fields. There will be an opportunity to ask the questions that are most important to you on topics like the COVID-19 vaccination in adults and children, mental wellness, addictions and substance abuse, diabetes, cancer, tobacco and vaping.  Session will be live-streamed on Facebook and hosted on Zoom.
TITLE:                               Indigenous health and wellbeing during the pandemic
GUEST SPEAKER:           Dr. Veronica McKinney
DATE:                                Thursday, February 10, 2022
TIME:                                7:00 pm
REGISTER:                         https://mns-tea-and-talks-healthseries-2.eventbrite.ca