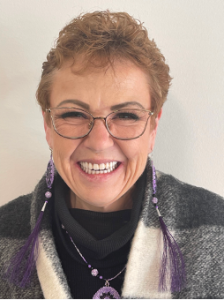 July 19, 2023 – Métis Nation–Saskatchewan (MN–S) introduces the role of Patient Advocate to support the reduction of systemic anti-Indigenous racism in the health care system.
Patient Advocate Bonnie Marwood works to identify and address biases in the health care system and promote a safe environment for all Métis citizens. Bonnie is a former educator, lawyer, legal researcher, and fifth generation Mètis with strong ties to the Bresaylor and Lashburn communities. As a Patient Advocate, Bonnie supports Métis citizens by investigating health care grievances and elevating concerns within the health care system to improve care going forward. 
Bonnie fills this role with an understanding and respect for Métis culture and customs, as well as legal parameters within the health care system. Her goals are to let citizens know they are heard and supported, build positive relationships while holding those responsible for improved care accountable, and ensure the TRC's Calls to Action, UNDRIP, and MMIWG2S+ health-care-related mandates are recognized.
Once a citizen completes and submits an intake form outlining their experience, needs, and desired outcomes, the Patient Advocate investigates gaps in the health care system that may have allowed an injustice to take place. To ensure concerns are addressed appropriately, matters are submitted first through existing provincial processes, such as in-hospital or Ombudsman Saskatchewan, and then elevated if required by utilizing MN–S partnerships within the health region. This may include discourse with partners such as SHA, Métis patient rights committees, the MN–S Health Team, Elders, knowledge keepers, Saskatchewan Health Authority First Nations and Métis Health Services (FNMHS), FSIN, Sanctum 1.5, Port, the University of Saskatchewan, hospitals, and others.
To learn more or submit your concerns to the MN–S Patient Advocate, reach out to Bonnie at [email protected] or (306) 371-5368.